International Economic Development Council Announces Ryan Silva as Board Member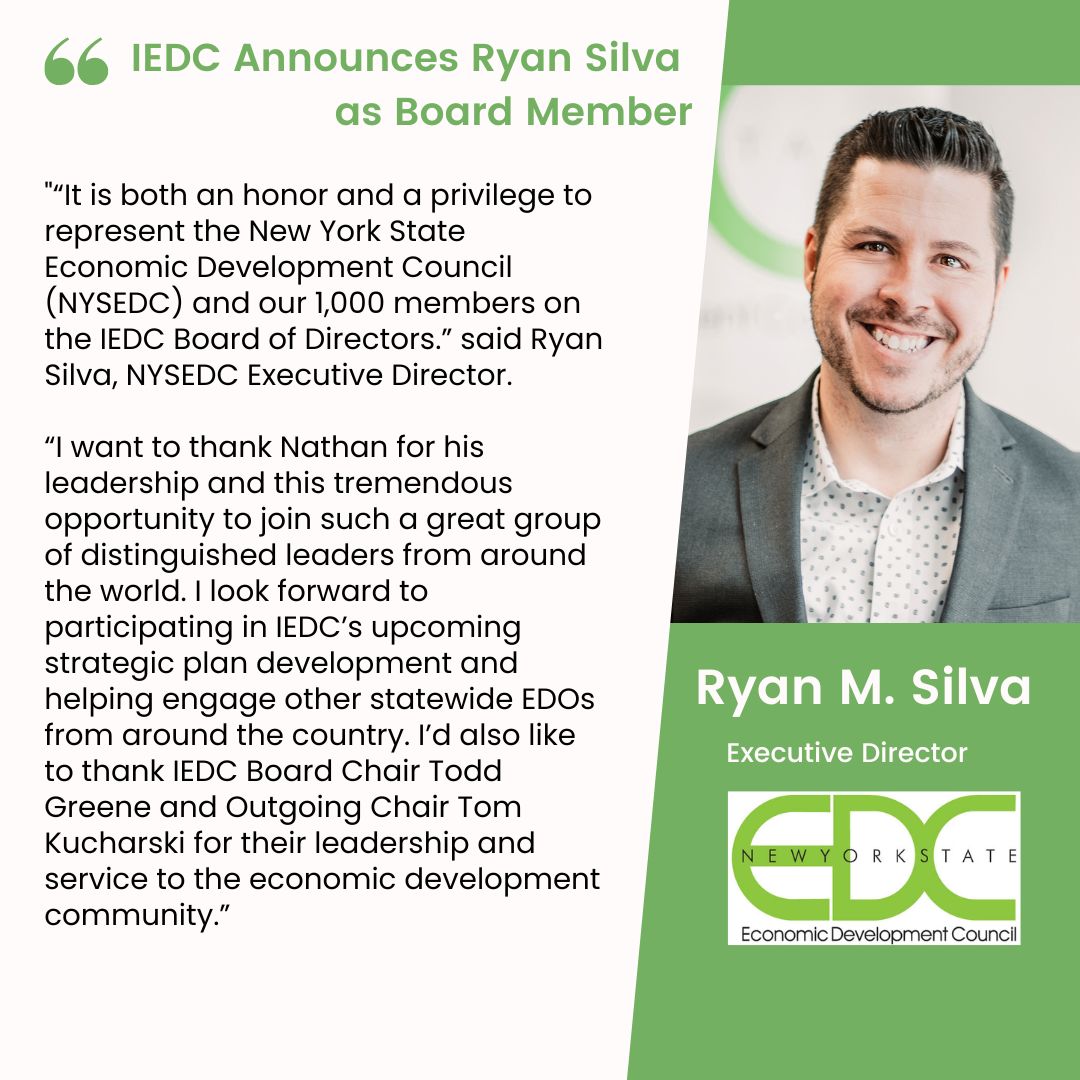 International Economic Development Council Announces Ryan Silva as Board Member
Silva to Begin Serving Tenure as IEDC Board Member in January
WASHINGTON, D.C. – The New York State Economic Development Council and the International Economic Development Council (IEDC) are proud to announce that Ryan Silva, Executive Director of the New York State Economic Development Council, has joined the Board of Directors of IEDC for a two-year term. The nomination was confirmed during the annual board meeting at the 2022 IEDC Annual Conference in Oklahoma City, OK.
"I am thrilled to have Ryan Silva join the IEDC Board of Directors next year. Ryan's commitment to the economic development profession and his leadership within the New York state economic development community have prepared him well for this new role. Ryan's leadership on key policy issues IEDC is engaged on in Washington, as well as his support for greater collaboration among the state economic development associations and IEDC are just a few ways in which he has already made an impact. From day one, Ryan will be contributing to timely and critical decisions regarding IEDC's path forward, helping to shape the economic development profession and shaping communities around the world for years to come."
"It is both an honor and a privilege to represent the New York State Economic Development Council (NYSEDC) and our 1000 members on the IEDC Board of Directors." said Ryan Silva, NYSEDC Executive Director. "I want to thank Nathan for his leadership and this tremendous opportunity to join such a great group of distinguished leaders from around the world. I look forward to participating in IEDC's upcoming strategic plan development and helping engage other statewide EDOs from around the country. I'd also like to thank IEDC Board Chair Todd Greene and Outgoing Chair Tom Kucharski for their leadership and service to the economic development community."
Ryan M. Silva has served as Executive Director of the New York State Economic Development Council (NYSEDC) since August of 2017. Ryan has helped NYSEDC achieve several landmark policy development wins including passage of The New York State Green Chips Act and the Federal CHIPs and Science Act, the creation of the Fast NY (Shovel Ready) Program, reauthorization of $250 Million for the RESTORE New York Program, the development of the $100 Million New York Forward Program, and creation of an emergency loan/grant program for Industrial Development Agencies (IDAs) during the pandemic. Under his leadership, the NYSEDC has increased operational revenue by 120%, doubled its staff, launched several new educational programs, and positioned the organization to help coordinate and lead New York's industry attraction efforts.
Prior to joining the NYSEDC, Ryan served as Vice President of Regional Economic Development for Empire State Development (ESD) and Deputy Director of the Regional Economic Development Council (REDC) Initiative for Governor Andrew Cuomo. He oversaw and helped develop several economic development policies and programs including the Upstate Revitalization Initiative (URI) and the Downtown Revitalization Initiative (DRI). During his tenure at ESD, the REDCs awarded over $2.5 billion to more than 2,000 projects. Ryan began his professional career at the Rensselaer County Regional Chamber of Commerce, growing membership and launching several new initiatives, including the Economic Development Partnership (EDP).
The International Economic Development Council (IEDC) is a non-profit, non-partisan membership organization serving economic developers. With more than 4,800 members, IEDC is the largest organization of its kind. Economic developers promote economic well-being and quality of life for their communities by creating, retaining, and expanding jobs that facilitate growth, enhance wealth and provide a stable tax base. From public to private, rural to urban, and local to international, IEDC's members engage in the full range of economic development practices. Given the breadth of economic development work, our members are employed in various settings, including local, state, provincial, and federal governments, public-private partnerships, chambers of commerce, universities, and a variety of other institutions. When we succeed, our members create high-quality jobs, develop vibrant communities, and improve the quality of life in their regions. Learn more at iedconline.org.
oOo