Seed Funding Grant Program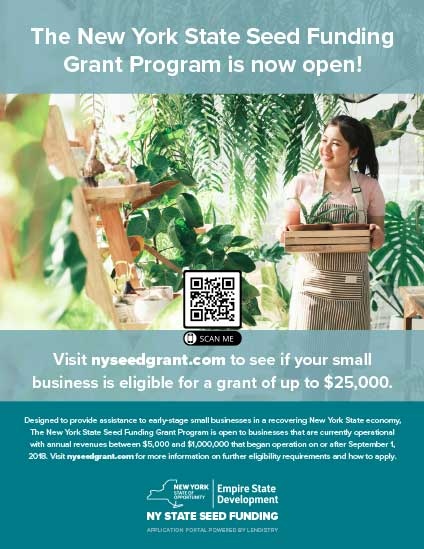 Last week Governor Hochul announced the first-in-the-nation Seed Funding Grant Program. This program provides flexible grants to support early stage, micro and small businesses in a still recovering New York State economy. The program ensures that small businesses that opened shortly before or during the COVID-19 pandemic will have the funds to continue to operate and grow. More information including eligibility requirements and the application portal can be found here:
https://nyseedgrant.com/
Webinars have been scheduled that will provide an overview of the Seed Funding Grant Program. The webinars will include information on the eligibility requirements and an overview of the application process and what to expect once an application is submitted. Please see below for webinar dates and times.
This webinar is suitable for community organizations who work with small businesses:
Wednesday, September 28, 2022 12:00 pm, Eastern Daylight Time (New York, GMT-04:00)
Event address for attendees:
https://lnkd.in/dQavNXbH
These webinars are suitable for small businesses applicants and all others:
Monday, October 3, 2022 12:00 pm, Eastern Daylight Time (New York, GMT-04:00)
Event address for attendees:
https://lnkd.in/dAyGqjhX
Tuesday, October 4, 2022 2:00 pm, Eastern Daylight Time (New York, GMT-04:00)
Event address for attendees:
https://lnkd.in/dM-ingiD
Tuesday, October 11, 2022 11:00 am, Eastern Daylight Time (New York, GMT-04:00)
Event address for attendees:
https://lnkd.in/d6HUgReM
Wednesday, October 12, 2022 11:00 am, Eastern Daylight Time (New York, GMT-04:00)
Event address for attendees:
https://lnkd.in/drAsm8XY