New York State Economic Development Council Announces Sarah Lee, Chief Executive Officer of Think Dutchess and Executive Director of the Dutchess County Industrial Development Agency as the Robert T. Dormer Economic Developer of the Year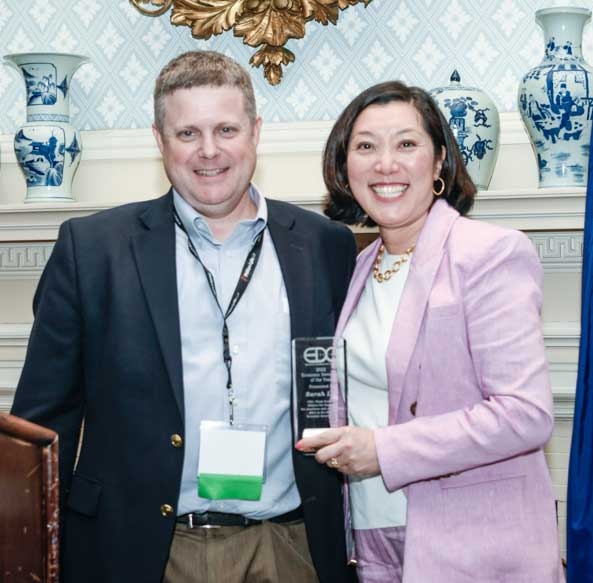 Albany, N.Y. – At its Annual Meeting in Cooperstown, New York, the NYSEDC recognized Sarah Lee, CEO of Think Dutchess and Executive Director of the Dutchess County Industrial Development Agency (IDA) as Economic Developer of the Year during its Awards Ceremony held on the evening of May 25, 2022.
The Robert T Dormer Developer of the Year Award was established to honor an economic development professional who has made a substantial impact on his or her community and the economic development industry. Those selected for the award need to demonstrate:
Outstanding performance in developing and administering economic development programs.
Provide distinguished service to one's community by providing leadership in stimulating local economic development.
Demonstrate a commitment to NYSEDC, its programs and its policies.
Demonstrate an interest in assisting colleagues within the economic development profession.
Show distinction in providing leadership in respect to a problem or situation of significant interest and impact in the practice of economic development.
Demonstrate a commitment to economic education and training.
Since becoming the CEO of Think Dutchess in 2016, Sarah Lee led the former Dutchess County Economic Development Corporation through a rebrand that aligned the county's economic development partners and decisions makers to work toward a single goal of energizing a region's economy. As a result, the new organization, Think Dutchess Alliance for Business has become the prime resource for attracting businesses to Dutchess County, NY.
In 2020, despite the challenges all EDOs faced when the world came to a halt, Sarah led the Think Dutchess team to a banner year. Her ability to identify, unite and build her team and community relationships resulted in 5 closed projects with $345,770,000 in investment, over 217 new jobs added to the economy and over 1,723 retained jobs. Navigating the challenges that 2021 ushered in, Think Dutchess once again attracted the attention of major companies like Frito Lay and Amazon to add another $225,000,000 and 580 jobs to the local economy.
Much of this success is attributed to Sarah's ability to connect key public and private partners to overcome hurdles that new projects bring. Some of Sarah's 2021 successes in developing and administering economic development programs include:
Provided marketing, project origination, technical assistance, project management, and administrative services for 17 IDA projects and 3 LDC projects resulting in $465,642,376 in private investment, 781 new FTE jobs and 2,462 retained FTE jobs
Managed the delivery of services that resulted in site visits to 66 businesses, technical assistance to 128 unique companies and individuals, 276 referrals to economic development partners, 24 virtual business workshops, and one 60-hour entrepreneurship certificate course and 3 Dutchess County companies filing for NYS MWBE certification.
Created and oversaw the execution of the Dutchess County micro-marketing program, a program to educate and assist 45 small business to improve their social media presence and increase their customer base.
Facilitated a marketing program that earned media placements about economic development in 18 publications not including newspapers and newsletters. These publications ranged from regional to national and trade publications like Trade & Industry Development to Forbes.
Accepted the 2021 IEDC Gold Award for Think Dutchess Annual Impact Report- The only Gold Award given in a field of 250,000 applicants.
Sarah is a true leader who understands that leaders must also embody the lifelong learning process they encourage. She demonstrates a commitment to NYSEDC, its programs and its policies, in addition to demonstrating a commitment to economic education and training.
"I am humbled to receive this recognition. NYSEDC is an organization committed to providing leadership and excellence in Economic Development and to be recognized by my peers for this award is a true honor," said Lee.
"The NYSEDC is proud to recognize Sarah Lee, who has shown excellence in the ever-evolving field of economic development, advancing new and creative ways to grow the local economy, create economic opportunity for residents with sound business retention, and expansion activities, and improve the quality of life across their community, Sarah is a committed member of NYSEDC and is actively engaged in our mission of advocacy, education, and professional development, which advance economic opportunity across New York State," said Ryan Silva, NYSEDC executive director.
For more than 30 years, NYSEDC has been the state's principal organization representing economic development professionals, colleges and universities, and public-sector enterprises. Its members include IDAs, local development corporations (LDCs), banks, underwriters, bond counsels, utilities, chambers of commerce, real estate developers, business incubators, workforce organizations, and private corporations. The NYSEDC Economic Development Awards program recognizes the state's best economic development programs and partnerships, marketing materials, influential leaders, and rising stars. These awards honor organizations and individuals for their efforts in creating positive change in urban, suburban, and rural communities.

###
About the NYSEDC
The New York State Economic Development Council is the state's principal, nonprofit membership organization representing public, private, and nonprofit economic development professionals. Its mission is to provide strong leadership that delivers cost-effective value to members through advocacy, professional development, communications, and networking. NYSEDC has been serving New York's economic development professionals for more than 30 years. Its 1,000+ members work to build vibrant, diverse, and sustainable communities throughout New York state.